In this article, I'm going to introduce to you an amazing new expense tracker app available on Android devices – Ivy Wallet.
If you look around in the Google Play Store, you will find a large number of expense tracker apps – some are great, some not so much. Some offer you a number of features but a below-part user interface, while some try to look good without offering much value.
Enter Ivy Wallet. This is a very simple app to help you track your everyday expenses for free (while the paid version offers more features). It has pretty much all the things you might need in an expense tracker app, and I believe it is one of the best apps available on the Play Store. Why? That's what this article is all about.
So, what is Ivy Wallet?
Ivy Wallet is a mobile app designed to help you manage your personal finances and track your spending. Whether you need to make sure you don't spend more than you make, set up a budget to save money, or plan for fixed expenses like your mortgage, Ivy Wallet is the perfect app for you.
It helps you track spending on categories like food, shopping, transport, entertainment, and more. More importantly, it highlights how many items you've bought at any given store to discourage you from overspending there.
Ivy Wallet features
Ivy Wallet is a very well thought out app. The moment you install it on your Android device, you'll realise how much the developers have brainstormed while building it.
It has a nice flow of steps from the moment you sign in. For example, it asks you to import your existing data from a previous installation right away. If you didn't have any, it asks you to set a currency and add accounts and categories. I'm mighty impressed.
The home screen is minimal, yet it shows you all the expense related details that you would want at a quick glance. For example, it displays your total income and expenses for the current month. Below that, it shows your cashflow. Finally, if you come down further, you'll see the individual expense details. This is exactly what you should look for in an expense tracker app – nothing less, nothing more.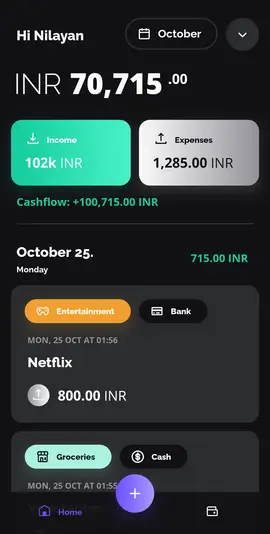 Without further ado, let's quickly jump into the features.
Multiple Accounts
With Ivy Wallet, you can track the income and expenses against your bank account, credit cards, cash or practically any type of account that you have. This is extremely useful, as it helps you keep track of the things that you spent on using each account.
For example, I have a habit of losing track of my credit card expenses. I'm sure a lot of you share this unfortunate trait with me. Ivy Wallet tells me exactly how much I used my credit card in a month.
It also tells you exactly how much money you have across all your accounts. This is a very useful feature for those who have more than just a few accounts.
You can even set a different currency for each of your accounts. Frequent international traveller looking to track cash expenses in another currency? Ivy Wallet has you covered.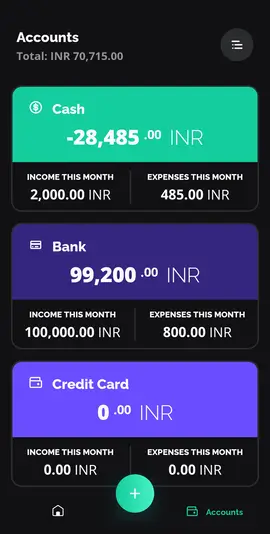 Multiple Currencies
Ivy Wallet supports a large number of currencies. When you're setting up the app for the first time, it will select your home currency as the default one. So, whenever you add a new account, it will be defaulted to your country's currency.
However, you always have the choice to change that from the settings.
And did I tell you that it supports Cryptocurrency as well? Yes. Ivy Wallet supports a number of cryptocurrencies such as Bitcoin, Ethereum, etc. This is super cool. Not many of their competitors have this feature yet.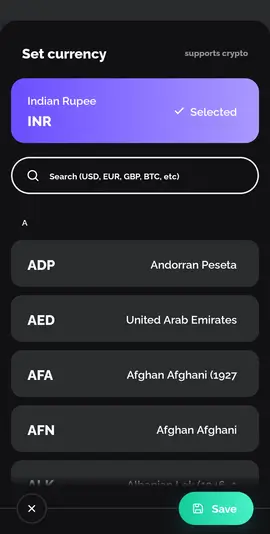 Categories
This app allows you to create multiple categories for your expenses. So, you can use it to keep track of any expense from coffee, to bills, to charity donations.
It's a great way to see a snapshot of the categories that you're spending the most money on each month, and it allows you to record detailed information about each purchase that you make. Plus, with its multiple categories, you can easily separate your spending into budgets for personal and professional, or you can even designate a category for groceries.
It can help you find your money saving strategies and help you break your bad habits.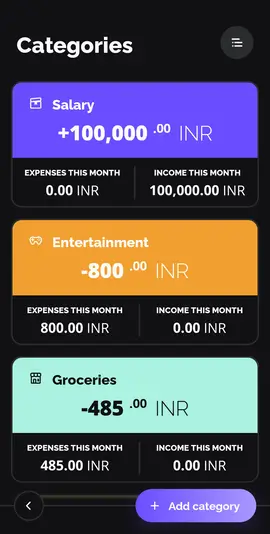 Extended Personalization
Every time you add a new account or category to Ivy Wallet, it allows you to set an icon and a colour for that to suit your taste.
Is it a necessary feature? Absolutely not.
Do I like it? Heck, yeah! I love it when a product lets me personalize the frontend as per my wish.
So probably you like pink. Well, I don't, so I'll change it to blue. As simple as that!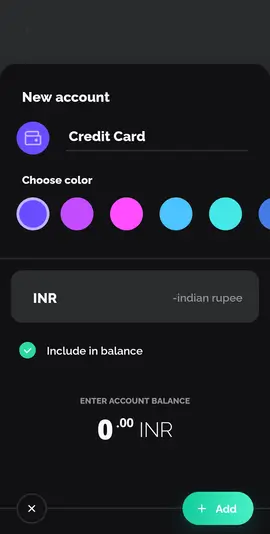 Budgets
Budgets is a very useful feature for those who find it hard to keep a check on their spendings. Using this feature, you can set a total budget or one for each category.
Do you want to keep a tab on your dining out expenses? Ivy Wallet lets you do that easily.
Just tap on Add Budget on the Budgets screen, give the budget a name, select categories (optional) and enter an amount. It's that simple.
Now every time you record your expenses, Ivy Wallet shows you how exactly much budget you have left.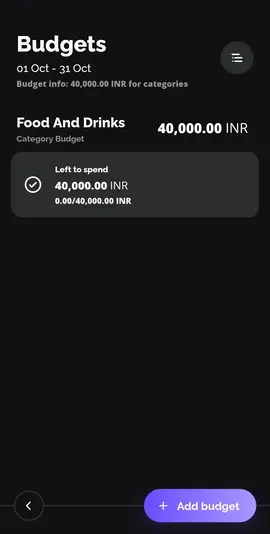 Planned Payments
Planned Payment is one of the best features of Ivy Wallet and my personal favourite.
What if you have a recurring payment that you want to keep a track off? Like your broadband bill, an OTA subscription. Or you just want to record a one-time payment that you're going to make in the near-future.
Ivy Wallet offers a neat feature called Planned Payments that does exactly that.
I highly recommend you to not overlook this feature – it is very powerful, and you have no idea how useful it is until you use it.
Imagine you have a few heavy expenses coming soon, and this app tells you exactly how much they amount to. Now you can figure out how great it is that with Planned Payments, you can control your other expenses depending on your current liabilities. Kudos to the developers for making it happen with Ivy Wallet.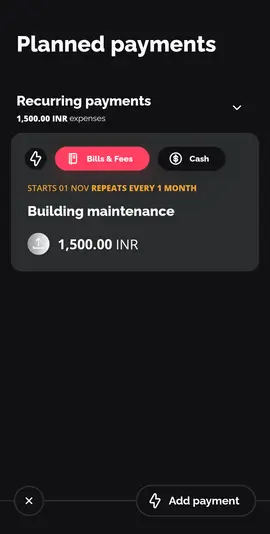 Reports
Ivy Wallet has a feature called Reports where you can put a number of filters to drill down into the minute details of your income/expense history. This should work great for accounting purposes.
You can select a time period, accounts, categories and an amount range to look at any subset of transactions. And there's more – you can even include or exclude keywords using the filter. You're only limited by your imagination.
The Reports feature also lets you export the data to a CSV file.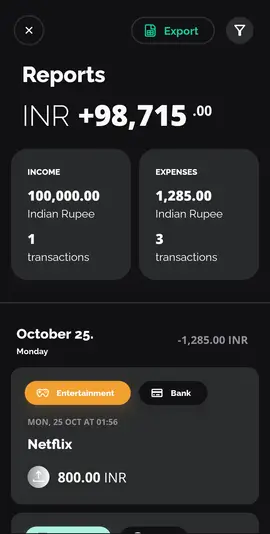 Charts
We all love pie charts, don't we? Ivy Wallet shows all your expenses (and incomes) in the form of a beautiful pie chart.
It gives you a glance into how much you have spent on each category in the current (or any) month. It also tells you the exact percentage of spending under each category.
What I like about the pie chart in Ivy Wallet is – it's so simple, no frills. It tells you exactly what you need to know – nothing more, nothing less.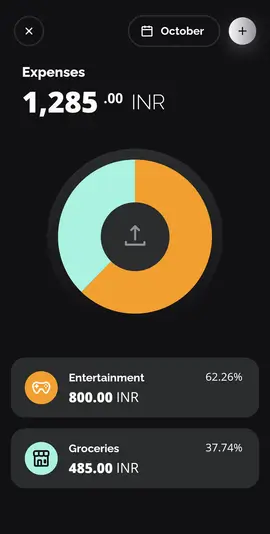 Import/Export
Ivy Wallet works either by syncing your data to Ivy Cloud or storing them locally on your device.
In case of offline usage, you can easily import your past expenses from Ivy Wallet's CSV file. So, your data is safe even if you're not syncing them to Ivy Cloud.
Wait, that's not all.
You may even import your expenses from a few other expense tracker apps. At the time of writing this article, Ivy Wallets allows you to import the CSV file from Money Manager, Wallet by BudgetBakers and Spendee. (Time to switch over to Ivy Wallet?!)
Coming to the Export part of it, Ivy Wallet allows you to export all your recorded incomes and expenses to a CSV file.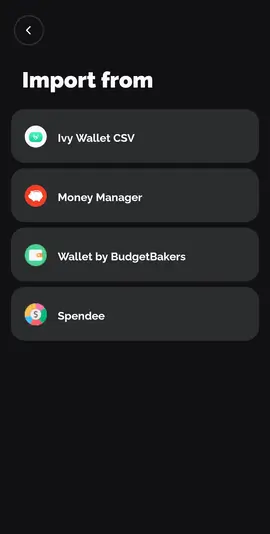 Ivy Cloud
If you sign in to Ivy Wallet using your Google account, it syncs all your recorded income and expenses to the Ivy Cloud. So every time you change your device, all you would need to do is sign in with the same Google account again. Your past data will be automatically loaded in the app. Trust me, this feature is a life-saver.
Widget
Too lazy to open the app every time to record an expense? Ivy Wallet can probably read your mind and hence offers a cool little widget that helps you record your expenses right from your Android home screen.
And not just expenses, you can record your incomes and account transfers too using the same widget.
Lock app
This is a little feature that's good to have in any app that requires a bit of privacy. Ivy Wallet lets you lock the app using Android's native screen lock feature. That means, once you lock the app, you'll need to enter your PIN/pattern or authenticate using your fingerprint to open it the next time. If you like to keep your expenses private, you're going to turn it on right after installing the app!
Free vs. Paid
While the free version of Ivy Wallet is good enough for most of your needs, the premium version pushes the game a notch higher.
Accounts: The free version supports adding up to 3 accounts. The premium version supports unlimited accounts.
Categories: The free version supports adding up to 12 categories. The premium version supports unlimited categories.
Budgets: The free version supports adding up to 2 budgets. The premium version supports unlimited budgets.
Ivy Premium allows you to export your Reports to CSV (Google Sheets and Excel).
With Ivy Premium, you have access to more account and category colours for further personalization.
Pros and Cons
Now you know the features that Ivy Wallet has on offer, it's time to tell you what I like about this app and where I see some room for improvement.
Pros
Ivy Wallet ticks most of the right boxes according to me. Here's a quick recap of the things I like the most about this little app.
The initial setup steps are intuitive, and the app is very user-friendly.
The user interface is stunning. (Best in category?)
The account and category colours and icons can be personalized.
It can track expenses in multiple currencies.
It supports cryptocurrency.
The budget management is very useful.
The Planned Payments feature is innovative.
It is open-source, which is great if you care about security and privacy.
It offers a generous free plan.
It supports dark mode.
There are no ads.
Cons
Ivy Wallet is a relatively new app as compared to the more mature products in the market. No software is perfect, so there are bound to be a few shortcomings with Ivy Wallet too.
There's no option to login using email ID/password (it supports only Google sign in).
It does not support auto-backup CSV to Google Cloud or another cloud service.
You cannot attach bills to the expenses.
It cannot record incomes and expenses by reading SMS.
There are no bank integrations.
Conclusion
Ivy Wallet is an incredible tool for anyone who wants to know how much they're spending each month. It's easy to use and makes it simple to check the balance on credit cards or debit cards, or see how much you've earned that month.
It's a great app with a user-friendly interface and a powerful set of features that makes it easy to manage your income and expenses, as well as analyse your spending habits.
Give it a try, chances are you will not regret the decision.
FAQ